Sageview Capital Announces 2021 Promotions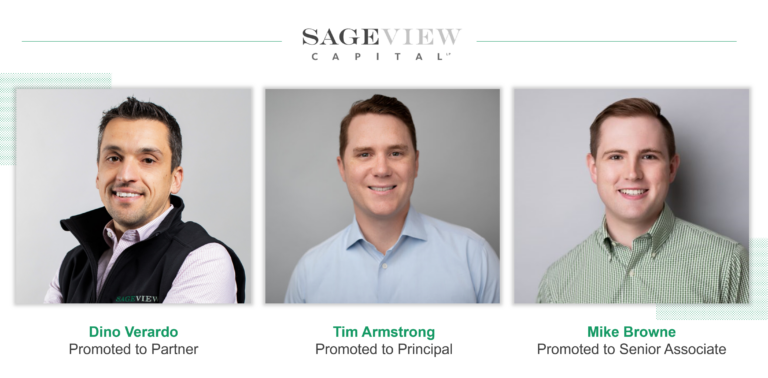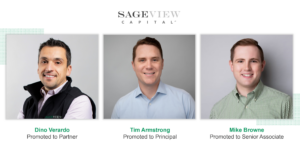 Sageview Capital LP, a private investment firm focused on providing growth capital and operational support to leading tech-enabled businesses, is excited to announce the promotions of Dino Verardo to Partner, Tim Armstrong to Principal, and Mike Browne to Senior Associate.
Each of these individuals has contributed significantly to the firm and to our portfolio companies in their time at Sageview. They have demonstrated a track record of leadership, innovative thinking, and excellence. We look forward to the continued contributions each will have to our team and our companies.
Promotion to Partner
Dino Verardo – Dino Verardo joined Sageview in 2008 and serves as the firm's Chief Operating Officer, Chief Financial Officer, and Chief Compliance Officer. Dino is responsible for overseeing the firm's financial, operational, accounting, and compliance functions. Throughout his tenure at Sageview, Dino has contributed significantly across all aspects of the firm, including the investment process, fund management and reporting, and investor relations. Before joining Sageview, Dino was a Product Controller at Sailfish Capital L.P., a fixed income hedge fund based in Stamford, CT. He started his career at KPMG LLP. Dino attended Providence College, receiving a B.S. in Accountancy, graduating magna cum laude. He later received an M.B.A. from Fairfield University and is a Certified Public Accountant in Connecticut.
Promotion to Principal
Tim Armstrong – Tim Armstrong joined Sageview in 2017 and is active in the firm's investments in Aceable, Demandbase, DISQO, Drivewyze, and Pax8. Tim holds a board seat at Drivewyze and is a board observer at Aceable and DISQO. Tim has been investing in growth-stage companies for over 7 years, with prior experience at Pine Brook Partners and J.P. Morgan. Tim graduated summa cum laude from Arizona State University, where he received a B.S. in Finance.
Promotion to Senior Associate
Mike Browne – Mike Browne joined Sageview in 2019 and is responsible for helping the firm in its sourcing, executing, and portfolio monitoring efforts. Mike is actively involved in the firm's investments in 360insights, Drivewyze, and Specright. Before joining Sageview, Mike worked in the Mergers and Acquisitions Group at Bank of America Merrill Lynch in New York. At BofA, Mike worked on a variety of M&A transactions and strategic advisory engagements and announced seven deals totaling $10BN of transaction value. Mike attended the University of Pennsylvania, where he received a B.S.E. in Computer Science.
About Sageview Capital
Sageview Capital LP is a private investment firm focused on providing growth capital and operational support to leading tech-enabled businesses. As active partners, we leverage our decades of industry experience, operational expertise, and extensive network to drive long-term value for our portfolio companies and their employees. The firm's investments include 360insights, Aceable, CallRail, Carewell, Demandbase, DISQO, Drivewyze, Elastic Path, Ezoic, MetricStream, Pantheon, Pax8, NAM, Specright, Theatro, Womply, and XSELL Technologies, among others. Sageview Capital was founded in 2006 and has deployed over $1.1 billion across 29 growth capital investments. The firm has offices in Greenwich, Connecticut, and Palo Alto, California.