Reimagining Digital Out-of-Home
Atmosphere: disrupting the way audiences consume out-of-home content
By Roberto Avila & Doug Saper
The Status Quo
Imagine you're sitting at a venue: a restaurant, bar, doctor's office, car dealership, gym, laundromat, etc., and notice a TV playing something dull and unengaging with no sound – the visual equivalent of elevator music. It doesn't take much creativity to picture this scenario, as it's one many of us have experienced. This has become a relatively common experience, but why? The quick answer: outside of live sports, the vast amount of content we consume today isn't suitable for viewership in public, communal settings. Traditional content is generally long-form, episodic, and requires audio; therefore, it can be challenging for venue operators to choose the optimal content to put up on their TVs outside of prime sporting hours. Add in another variable: the cost of various content and streaming options, and this task becomes even more difficult.
There's also a separate challenge at play, which is equally important: the ability of advertisers to engage and target their audiences through captivating content in an out-of-home experience, for example, young adults at a bar or animal lovers at a veterinary office. While digital media has continued to take a share of total ad spend, we see ample opportunity in out-of-home (OOH), digital out-of-home (DOOH), and connected TV (CTV) channels. These complementary outlets will become increasingly important as companies diversify their advertising and capitalize on consumer shifts towards visual short-form content.
As we spent more time researching the convergence of in-venue content and advertising, two things became clear to us: first, venues want to play engaging content for all guests, continually refreshed, available 24/7, and affordable. Second, advertisers have a massive untapped opportunity to run DOOH campaigns with hyper-focused place-based parameters at these same venues.
Enter Atmosphere
Given our understanding of the apparent gap in the market, we set out to find companies that were filling this void and disrupting the traditional way businesses were providing entertaining and original content to their audiences. After analyzing the space, we were thrilled to identify and invest in Atmosphere, a free TV streaming platform for businesses. This company was uniquely and rather completely solving the issues we had identified. The company offers 64 original and partner TV channels optimized for viewership in different public spaces. The channels range from viral video compilations to extreme sports highlights to ambient nature clips.
Additionally, Atmosphere recently announced a first-of-its-kind partnership with Tik Tok, whereby Atmosphere will curate thousands of Tik Tok videos into a new channel designed for OOH viewing. This is a considerable development and incentive for content creators —by giving Atmosphere permission to use their Tik Tok videos, these content creators can extend their reach beyond the smartphone to new screens and audiences. Atmosphere provides its service free of charge to its customers by monetizing via its proprietary advertising platform. Using dynamic contextual, geographic, and demographic targeting, Atmosphere connects advertisers to their target audience at competitive prices.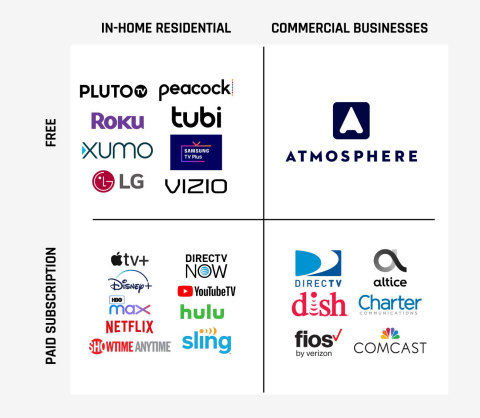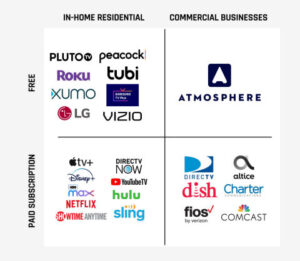 Atmosphere's rapidly expanding customer base includes 19 thousand venues today across the world, ranging from restaurants and bars to gyms, automotive repair shops, and doctor offices. Today's notable customers include Burger King, Texas Roadhouse, and Taco Bell, among others. This breadth of venue types demonstrates the versatility of Atmosphere's content and platform. There are also custom channels focused on specific venues, such as Paws TV, featuring adorable animal videos for veterinary clinics. With Atmosphere's latest capital raise, the company plans to double down on driving innovations for its customers and improving its content offerings for all venue types.
A World-Class Management Team
When we met Co-founder and CEO Leo Resig, our first thought was that he was uniquely qualified for this opportunity. Leo understands the challenges of developing original content and monetizing ad inventory. Leo previously founded Chive Media Group in 2008 with his brother, John Resig, Co-founder and President of Atmosphere. Atmosphere was incubated within Chive Media Group before ultimately spinning out in 2019. Since then, Leo has built an incredible world-class team with decades of experience working in the industry and together. And at the end of the day, Leo and his team are a fun, passionate, and exciting group with which to work. We knew after meeting them that they were a team with which we could genuinely bring our value-add to bear and further accelerate the company's already tremendous growth.
The Feedback
We spoke with dozens of venues to learn more about their experience with Atmosphere. The feedback was consistent and clear: the channels are fun, refreshing, and well-received by viewers. Plus, it's free! There was really no reason not to play Atmosphere on one (or more) of their TVs in their minds. Atmosphere also offers a digital signage program that allows venues to run their own advertising programs during breaks between content. This helps venues highlight new promotions (e.g., half off on chicken wings!) or upcoming events. Atmosphere gives venues control over the communication and messaging on their TVs, which they previously lacked with traditional linear TV. The Atmosphere value proposition is equally as compelling for advertisers. Atmosphere allows brands to reach their target audience in a receptive setting. Attribution studies show the strong potential to increase viewers' purchasing intent, advertisement recall, and brand awareness.
We're Thrilled to Be Partnering with Atmosphere
At Sageview, we focus on providing growth capital and operational support to leading tech-enabled businesses that are disrupting the ways traditional businesses operate or engage with their customers. We are active partners and work side by side with each of our companies to identify the right plan to help them scale to the leader within their industry. We understand there's no "one size fits all" or "cookie-cutter" approach to scaling a business, so we work hard to identify the right growth plan for each of our companies. As part of this process, we look to leverage our decades of industry experience, operational expertise, and extensive network across the Global 2000 and within the software and technology industries to create meaningful value. We're thrilled to work with the entire Atmosphere team during their next phase of growth and do all that we can to help guide them to be the dominant player in their space.
To learn more about Atmosphere, visit their Website