Failure Without Customer Success
By Jeff Klemens & Tim Armstrong
The Necessity of a World Class Customer Success Engine
Suppose you asked an expert in the software or technology sector to name one of the most significant evolutions in the market over the last decade. In that case, you'd probably hear a lot about cloud computing, the Internet of Things, and undoubtedly the transition of the software business model from perpetual licenses to Software as a Service (SaaS). With the rise of the SaaS business model, at Sageview, we've observed the simultaneous rise in the importance of customer success amongst both the investor community and the portfolio companies we support. With the advent of customer-aligned pricing models, where a vendor's economics are dictated by smaller increments across a subscription period, providing consistent value to customers and making sure customers acknowledge that value is paramount.
The increased prevalence of "land and expand" and "product-led growth" go-to-market models further highlight this concept. In both of these models, the upfront cost for a customer to take on a product or service is purposefully minimized, with the hope that it will be easier to sell additional products and services to that customer down the road. None of these models work well if customers aren't satisfied, thus fueling the need for an effective customer success function and strategy.
Over the years, we've seen numerous external validations of this idea, including the overall macro interest in key terms like "customer success" and "customer experience," as shown here in a Google Search Trends graph: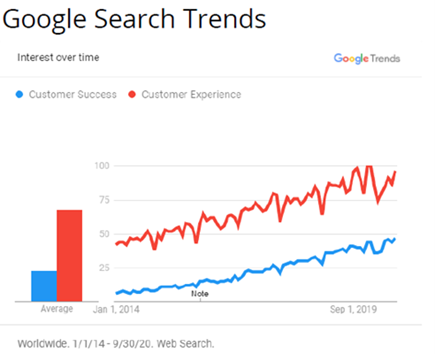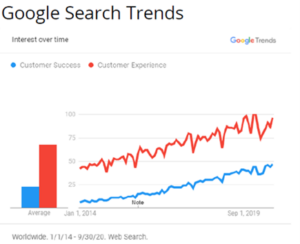 Additionally, LinkedIn reported that Customer Success Specialist was the #6 fastest-growing job category in a 2020 Emerging Jobs Report [Link].  Furthermore, the investment community has responded, with recent large funding rounds into Customer Success platform vendors Gainsight, Totango, and ChurnZero all serving as examples of the strong interest in the category.
Despite the strong argument provided by those previous examples, maybe the most compelling data is the correlation between net retention rate and a company's valuation. In looking at the chart below, it's clear that the valuation of a company is impacted directly by the ability to retain and sell more to existing customers. This chart compares the net retention rates of 45 public SaaS companies and their current trading multiples. We're cognizant that many variables impact how a firm is valued; still, the clear positive correlation suggests execution when it comes to customer success can have a significant impact on value.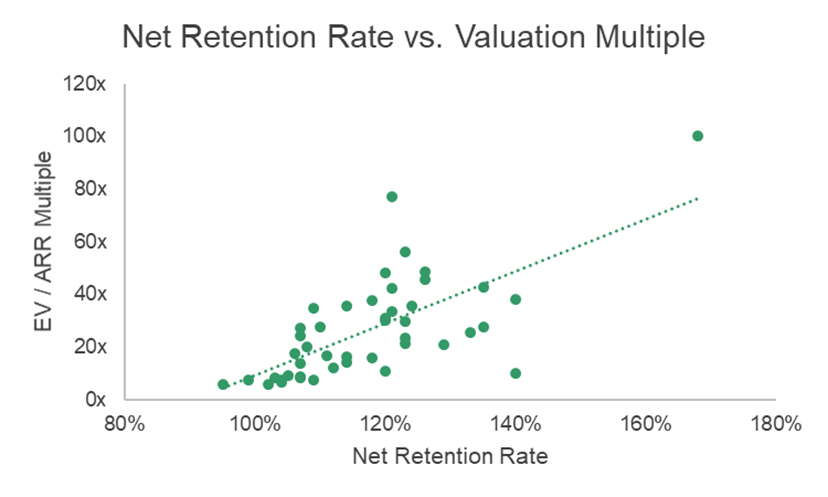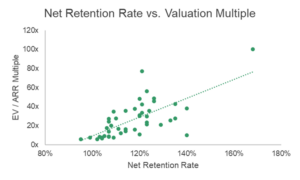 Understanding Best Practices Around Customer Success
We recently hosted a customer success roundtable with leaders in the area from within our portfolio companies. During the hour, we discussed current trends in the industry and the issues they are dealing with day-to-day. It was a great discussion, and we're lucky to have such a talented and dedicated group of executives leading this function within our portfolio. As a result of this productive exchange, there were a few key takeaways that resonated strongly:
It's clear that the customer success organization does not follow a cookie-cutter approach. The nature of the business, the value and structure of a typical customer contract, the number of customers served, the champion in the customer organization, and the level of complexity in the product can all have a significant impact on how to structure the customer success organization most effectively. Of the groups represented in our discussion, about a third were part of a broader support and services group, about a quarter of the groups were stand-alone, and the remainder were scattered amongst product groups, sales, and operations.  Just less than half had some sort of upsell quota for their customer success managers, whereas more than half had a renewal quota for their team.  And staffing of the customer success team was a function of many factors, including the number of customers per manager, perceived upsell opportunity, the complexity of the deployment, and customer expectations of value. A few organizations were explicit about the level of company support and resources a given customer should expect (e.g., on a Platinum, Gold, Silver tier); others kept that information hidden from customers, so they didn't feel left out.
While tracking customer health has gotten much more sophisticated and data-driven, there remains an element of judgment involved.  What used to be quarterly business reviews with top customers or annual NPS surveys has now morphed into weekly customer health reviews, feedback gathering at each customer touchpoint (onboarding, support, renewal, upsell), and ongoing tracking of product usage and engagement. Though probably table-stakes for our group of experts, what was enlightening to me was that tracking usage data is just step one. Many of our companies have taken the next step of defining different customer persona usage "journeys" and making sure the journeys they observe in the usage data match the journeys the customer would be expected to have from the sales process. Despite these increasing levels of automation and sophistication, some elements of customer health, such as quantifying upsell opportunity or level of executive engagement, typically remain more subjective metrics that factor into an overall health score.
One of the most common challenges facing our organizations is ensuring a smooth customer hand-off amongst sales, onboarding, support, and customer success.  There are several different strategies to align financial incentives amongst employees in the organization, but, more often than not, individual relationships cause exceptions to the best-laid process and customer journey. Ensuring all stakeholders are communicating early and often to make sure the entire organization is looking after the customer's health felt like the best solution and a great encapsulation of the role of customer success.
Finally, it was also abundantly clear that customer success leaders and practitioners are continuing to turn to technology to (1) help address many of the pain points mentioned above and (2) achieve scale and reach within the customer success organization at their companies. As part of the discussion, we learned that virtually all our portfolio companies had deployed technology in this regard.
Many thanks to our customer success leaders for a great session, and thanks for all your efforts on behalf of companies.  This is an area of great interest to us and one we'll continue to spend time on.